About the Poet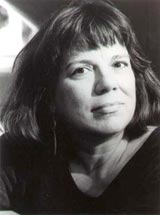 Born and raised in Baltimore, Maryland, Sandy Solomon came to poetry after other intellectual stops, the first of which was history. After earning a BA in History at the University of Chicago, she went on to do graduate work on early modern England.
Then she took a short-term job in Washington, D.C. to earn a bit of money and discovered that she wasn't bad at writing about policies affecting cities, low-income neighborhoods, and their residents. She spent more than a decade advocating for community-based development, minority rights, and income equity.
She was Director of Government Affairs for the National Urban Coalition, and then she helped found, and she directed two national organizations:
the National Neighborhood Coalition, composed of groups serving networks of community-based organizations around the country, and
the Coalition on Human Needs, a joint effort of more than 100 national organizations and trade unions, dedicated to preserving federal support for programs serving the poor.
All the while, she was quietly writing poems for the drawer. Eventually she set herself up as an independent writer and went back to university to study poetry. She received an MA from the Writing Seminars at Johns Hopkins University and an MFA from the Warren Wilson College's Program for Writers while turning out grant proposals, speeches, brochures, reports--you name it--for Washington clients. She's been a freelance writer for many years now, in Washington, London and Princeton. She has specialized in working for voluntary sector organizations, among which her longest associations were with the Independent Sector in America and the Charities Aid Foundation in the U.K.
Meanwhile her book of poems, Pears, Lake, Sun, won the Agnes Lynch Starrett award and was published in late 1996. Individual poems have appeared in various national magazines, among them, The New Yorker, The New Republic, The Threepenny Review, The Gettysburg Review, The Times Literary Supplement, and Partisan Review. Garrison Keillor has featured a poem on his radio program, The Writer's Almanac, and several poems have been included in anthologies.
Since the time when Solomon lived in a tiny London flat and shared a desk with her historian husband, she has gone to various artists' colonies--she retains a particular fondness for the MacDowell Colony and the Virginia Center for the Creative Arts. Solomon was a Bunting Fellow in Poetry at what is now called the Radcliffe Institute for Advanced Study at Harvard (1997-1998) and a Visiting Poet there the following academic year.
She lives in Princeton, New Jersey, but spends part of each year in London.