Pears, Lake, Sun
Winner of the Agnes Lynch Starrett Prize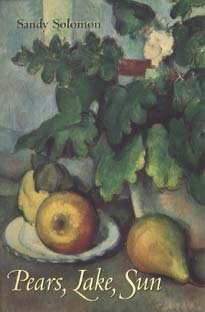 "In the brilliant surfaces and reflections of Pears, Lake, Sun, Sandy Solomon catches the moods and ambiguities of the very late twentieth century where harrowing events exist side by side with ghostly flashes of beauty. These are tough-minded poems, impeccably crafted, full of passionate stillness and disciplined commotion, that refuse to look away from the barbarities of our high civilizations."
MAURA STANTON
"Sandy Solomon's poems--excellently felt and seen--have for some time been rewarding those who leaf through our best magazines. It is good news that they are now gathered into a (deservedly) prize-winning volume."
RICHARD WILBUR
"These are poems with a sense of history, a sense of menace. And yet these are also poems which know how to make a landscape sunny and an urban vista downright, actual, and believable. This is a lyrical and ambitious book where nothing is easily found but where the discoveries allow the reader into achieved language and true feeling."
EAVAN BOLAND